House Washing Hub
Get Up To Speed
Find-out what all Home Owners ought to know about hiring a house washing company
Get the clear differences between the two, helping you make an informed decision.
Picture Big Clean performing these 3 house washing steps on your home, at the best prices.
House Washing Charlotte
Before & After Photos
You Get Predictable Before & After House Washing Results by Big Clean HQ. Here's What You Can Expect ????
Why Home Owners Love Big Clean's House Washing Service!
House Washing Charlotte
What Surface Is Your house?
House washing vinyl siding removing algae, dirt, & webs…including gutters, fascia & trim.
House washing Charlotte brick homes… cleaning off seasonal elements.Trim, windows & gutters POP!
House washing stucco with safe cleaning techniques…renewing your home's exterior.
Big Clean HQ pressure washing service consistently receives high marks from the following Consumer Authorities.
House Washing Brick & Vinyl Siding
Does your home look like it's from the 50's, yet it was built ten years ago? House siding is liable to get dirty as it endures wind, dust, pollutants, and smoke from your grill or patio chimney Reclaim your prestigious castle with premier cleaning services from Big Clean. We provide vinyl and brick home siding cleaning.
More information about our brick cleaning services.
House Washing Siding with Big Clean HQ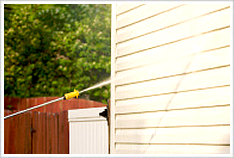 We utilize a pressure washer to get all of the grime off of the surface of your home. Since we have control over the pressure on our power washing machines, we can get a deep clean without damaging your surfaces. Moreover, we have the proper tools to get to every surface of your home exterior.We'll delve into nooks and crannies to clear out cobwebs, knock down old wasps' nests, clear out old birds' nests, and anything else that's clung on to your walls.
A clean home simply looks better as you pull into your driveway. It's more inviting, and warmer as you welcome your guests.
Moreover, washing your home can be an especially potent investment in your home if you're looking to put the old abode on the market. Since power washing your home makes it look brand new, it can boost the value of your home by 1,000's of dollars. That's a major profit for a minor investment.
If it's time to spruce up the look of your home, and regain your home's true colors, it's time to opt for a house washing from Big Clean. Get in touch with our power cleaning experts here at Big Clean today to get a free quote and schedule an appointment.
alan@bigcleanhq.com
This content is password protected. To view it please enter your password below: Password:
avada1start
This content is password protected. To view it please enter your password below: Password:
avada1start
If you're busy like most people, you don't have time to rent a pressure washing machine from Home Depot. The cost of renting a pressure washer is one thing... Then you will spend you're entire Saturday, and maybe part of your Sunday power washing vinyl siding. Chances are pressure washing a house or driveway is not something you have done much of, if at all. With that said... it's also likely you don't know the right soap to use, so not to kill the flower beds around your house. Yes, the weekend-guy over at the Big Box Store will suggest

Read more...