Pressure Washing Brick & Vinyl Siding
Does your home look like it's from the 50's, yet it was built ten years ago? House siding is liable to get dirty as it endures wind, dust, pollutants, and smoke from your grill or patio chiminea. Reclaim your prestigious castle with premier cleaning services from Big Clean. We provide vinyl and brick home siding cleaning.
Pressure Washing Siding with Big Clean HQ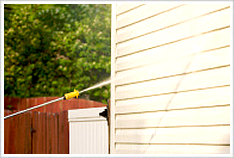 We utilize a pressure washer to get all of the grime off of the surface of your home. Since we have control over the pressure on our power washing machines, we can get a deep clean without damaging your surfaces. Moreover, we have the proper tools to get to every surface of your home exterior.We'll delve into nooks and crannies to clear out cobwebs, knock down old wasps' nests, clear out old birds' nests, and anything else that's clung on to your walls.
A clean home simply looks better as you pull into your driveway. It's more inviting, and warmer as you welcome your guests.
Moreover, pressure washing your home can be an especially potent investment in your home if you're looking to put the old abode on the market. Since pressure washing your home makes it look brand new, it can boost the value of your home by 1,000's of dollars. That's a major profit for a minor investment.
If it's time to spruce up the look of your home, and regain your home's true colors, it's time to opt for a pressure washing from Big Clean. Get in touch with our power cleaning expertshere at Big Clean today to get a free quote and schedule an appointment.