The summer breezes are rolling in, and summertime goes hand-in-hand with barbecue. So now's the time to reclaim your outdoor oasis. Today, we're talking tips to turning your backyard into the ultimate summertime hangout location. Take our advice Power Wash Outdoor Grill, and you're sure to have the best summer barbecues yet.
Get Clean
Alright, first things first. It's time to get clean with pressure washing from Big Clean. It's a shameless plug, true, but you'll impress guests and revitalize the look of your home with power washing services from Big Clean of Charlotte. Our professional power washers can clean your home's siding, patios, driveway, fencing, and most importantly, your deck. You can't have a barbecue without a deck, and you can't have the ultimate barbecue without a pristine, freshly lacquered deck. Before you host a big bash, give us a call to revitalize your home's exteriors and surrounding with power washing.
Install Games
Do you have games in your yard? If not, now's the time to get'em. If you have a large yard, consider installing a volleyball or badminton net. Or set up croquet for the day. Small yard? No worries. Build yourself a ladder golf set. This simple game provides endless entertainment. It's simple scoring, cheap, and fun. Or dig a horseshoe pit if you'd like. You'll just need a shovel, two pieces of rebar, two boards (for the backstop), and a bunch of sand. Or play another timeless favorite: bags. The boards for bags (or cornhole as many know it), can be built out of two sheets of plywood, a couple two-by-fours, and some screws. Check out the rules of the game here if you're unfamiliar.
Mowing, Gardening, & Landscaping
It's green thumb time. Impress your guests with a picturesque landscape. Springtime is the ideal time to fertilize and aerate your lawn to get your grass glimmering green.
Also, take a few days to get your garden started. Turn over your dirt to get air to newborn roots. Add compost that you've compiled over the year. Check out this planting chart if you're a resident here in North Carolina.
Now, it's time to beautify your landscape. Plant a tree, trim back the hedges, add a fresh layer of mulch, and plant this season's annuals. Prepping your land for summer will impress your guests, and it'll turn your backyard into that outdoor oasis you desire.
Ready the Grill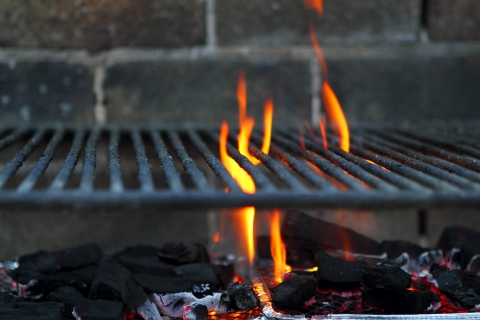 Next, it's time to prep the grill. If you haven't used your grill throughout the winter (or even if you have), it's time to perform maintenance on your grill. Depending on the grill, you'll spend more or less time cleaning your grilling surface. For most grills, you'll want to start up your grill, get it to a high temperature for about 15 minutes, allow it to cool, then clean the grate with a grill brush. Clean off all the charred leftovers and grease that's accumulated on your surfaces. Optional step: You can get a more thorough clean by using a bit of soapy water on your grates. Let the grates cool to warm before using water.
Get Cookin'!
Purchase your patties and produce, and get to cooking! Now that your yard, landscape, and patio are prepared, it's time to party! Enjoy your barbecue-filled summer, and as always, count on Big Clean for your Charlotte-area power washing needs!