Recently I was hired to pressure wash a house not lived in for quite a while. Not only was it not lived in, but it was left unkept. Overgrown shrubs and flowerbeds full of weeds. Not to mention the trees needed to be cut back from the house, and the gutters needed cleaning because they had stuff growing out of them.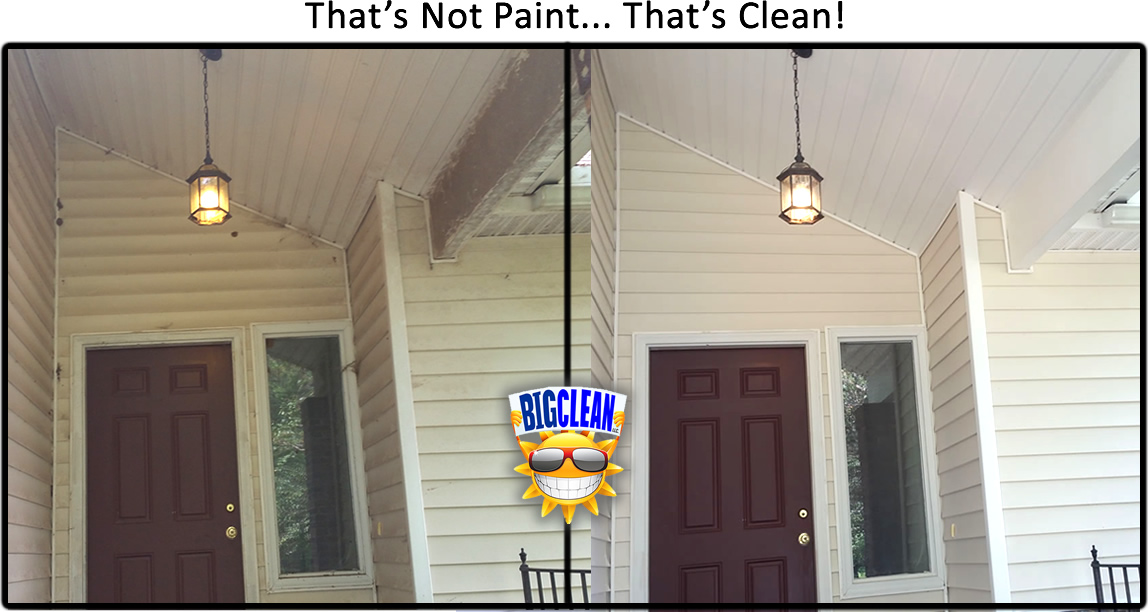 I have to say… no residential pressure washing job to dirty for Big Clean HQ!
Leaving a house to sit through four seasons in Charlotte, NC will produce a lot of dirt, algae, moss, webs, and nests of all kinds. As is the case with the house I'm discussing with you here – if the property has trees close to the house… dirt, bugs and grime will be heavy and will require frequent house washings.
Needless to say, this house was filthy.
Take a look of the picture before I pressure washed the porch and entryway to the house. See the top-right hand side where the grey beam is… well, that's not grey, it's dirt – heavy dirt.
All the little black spots on the vinyl siding above the door are spider webs with leaves and dirt stuck to the webs. Spider webs can be relentless when cleaning. Most experience pressure washing companies know how to remove spider webs without pressure. Again, pressure usually leaves permanent markings on your house. This house didn't require pressure washing… it required a house wash.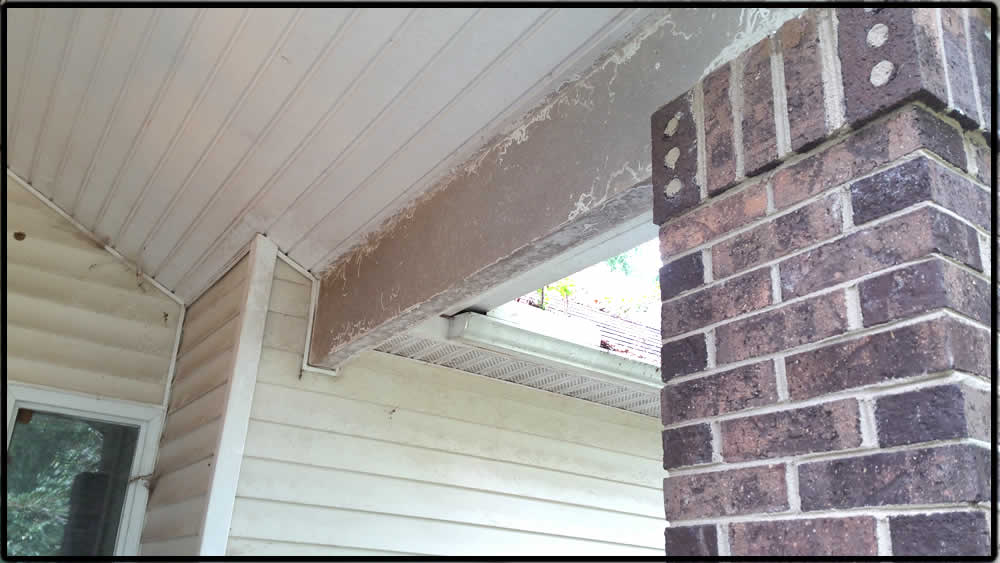 The difference is using specially formulated house washing soap… NOT high pressure. The results speak for themselves.
Anytime you hire pressure washing Charlotte services, absolutely make sure they do NOT use direct pressure against your house. I guarantee these inexperienced pressure washing companies will leave damaging marks on the surface of your house.
It's never pressure when power washing Charlotte homes – it's always soap and thorough rinsing. Any other method is obsolete and will not serve you best.
It shouldn't be so hard to find a reliable and responsible pressure washing service.
Most of the guys for hire aren't insured and they don't really know what they're doing. There are endless markings on vinyl siding around Charlotte, NC that attest to that fact.
Not only that, but their power washing prices always seem to jump up after they understand the full scope of the job.
When you need residential pressure washing, or house washing jobs done, call #BigCleanHQ.
When you call us, you won't wait hours or days for a response. If we don't answer on the spot, we'll return your call within minutes. #BigCleanHQ can give you a quote over the phone 99% of the time, and we don't change our prices after we show up.
BigCleanHQ is the responsible, affordable, reliable, professional choice for your pressure washing needs.
Call or fill out our online form to schedule your next power washing service.